I bought this minor about 4 years ago through an ad in the NSRA mag. It was down in Leeds, so I managed to get someone to have a quick look at it to let me know it was basically ok.
When I got the word back that it seemed fine, I agreed over the phone to buy it. The only problem was – it had a knackered auto box, but as I had a spare one, it wasn't really a concern. I duly borrowed a trailer and tow car (thanks Ian) and went to collect it. On first sight it seemed a bit rough, but on closer inspection appeared really sound.
When I got it home, I started off by cleaning it out – several binfuls later, the interior was pretty tidy, and then cleaned off the outside to make it a bit more shiny (it was matt).
The auto box was totally U/S despite a £600 bill for reconditioning not that many miles ago, but it was a GM 180 box, and my spare was a BW 65 – hopefully not a problem.
I duly set to and started removing the engine and box – a full day spent getting the headers off, but eventually it was out and sitting in my garage. I separated the engine and box, and realised quickly that there were numerous differences between the boxes – flywheel, crank spacer, torque converter, mountings, gear linkage – but I had all the bits, so it was quite straightforward to change. I then completely cleaned everything then sprayed engine and box fiat rosso red.
I then spend a considerable time re welding the headers as they were leaking at about every join (they were custom made to fit car). I then tidied up the entire engine bay, relocating wires/pipes etc to make it look better, made a new exhaust system, fitted new springs to the front and rear shocks, bled the brakes, rewired the instruments, secured trim in the interior etc etc.
The car came with weller steel wheels with pudding basins for hub caps, so I fitted the old cobra slots from the rear of my other Minor (BTS 81) to the front. Although they are 8 x 13's, they fitted without much protrusion from the wheelarch (Chevette front clip fitted). I then set about finding a set of slots for the rear, and quite soon got a set of 8 ½ x 15 American Racing items. The only snag was that the previous owner's of the car had redrilled the jag IRS to fit Ford 4 stud, so I had to get new hubs. This done, they fitted a treat under the 4 inch over rear arches. I used the car once MOT'd for the rest of that year, then took off the front wings and replaced them and the front panel with the ones from my MM series Minor (BTS). The wings needed a bit of work due to wheel/arch contact over the years, but were soon fettled, sprayed and mounted – I had another full set for BTS anyway.
The only other thing I've done to the car over the intervening years is to drive it – and fit a stainless steel bulkhead cover to it. I was full of good intentions to give it a full respray, but although I have bought the paint, and have a pair of refurbished doors to go on, I have not done so yet. I also considered re doing the interior as it is very 70's, but it has grown on me, and is a bit of a time warp. It was well done at the time, so I have just redone the dash and will leave the rest. The car is still a full 4 seater which may surprise some, and it is certainly quite a useful feature.
I also reconditioned a set of Vitesse heads to go on it (bigger valves) and fitted them just before Christmas, but had some bad luck as a foreign object got sucked in and destroyed the engine. I fitted a 3.9 one to replace it in 2006.
In general, the car is very useable, and is very sound structurally. It was originally modified by a company called Autofantasia down in Derby around 1990, and their work has certainly stood the test of time. They built the car using an integral chassis rather than a separate one. This was probably a more difficult option, but it bestows the car with more rigidity than standard, and retains the basic Minor floorpan.
It is not the fastest car in the world, but has beaten my friends V8 manual Minor on the drag strip, and quite a few modern cars. It's best time was a 14.9 at 92 mph, which equates to a 0 to 60 of around 6.5 seconds. Top end is around 130 mph, so it's not bad – midrange is particularly good. Handling is actually pretty good (in the dry), and having a chevette front end, the steering is very light, with an amazingly tight steering lock.
I plan to continue using it, and will get round to the bodywork etc when I can be bothered.
Summary:
Car 1955 Minor Series 2 MUJ 927
Engine 3.9 Rover V8 with Edelbrock Carb, and headers
Gearbox BW 65
Front End Chevette
Rear End Jaguar S type
Brakes Servo assisted Jag and Chevette
Wheels F 8 x13 Cobra Slots
Wheels R 81/2 x 15 American Racing
Body work Lowlight front panel and wings, rear wings 4 inch wider
Interior Very 70's velour – still a 4 seater
Colour Rover Kingfisher Blue
Some pics:
Tidying it up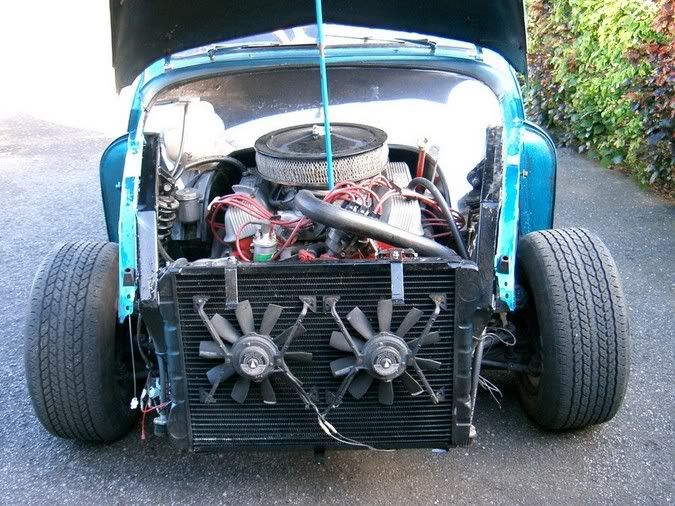 fitting wings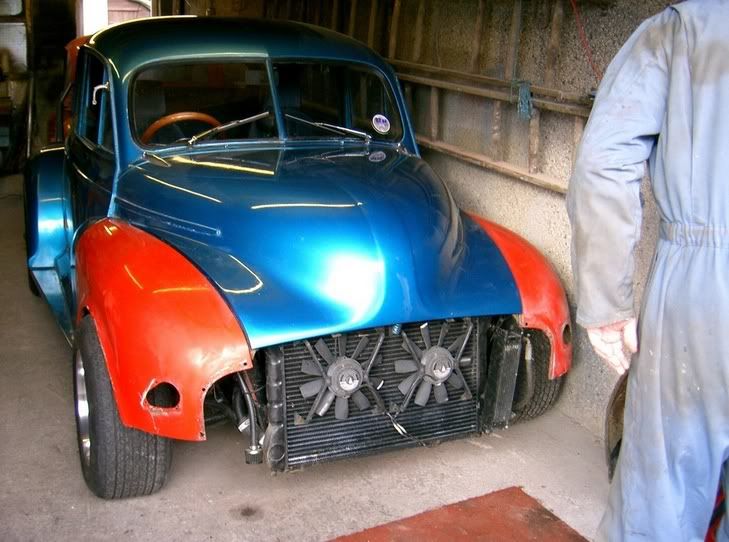 with son's Minor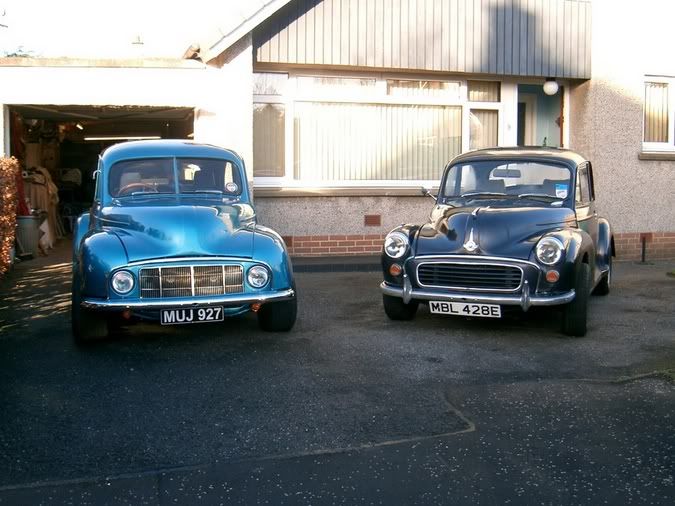 3.5 engine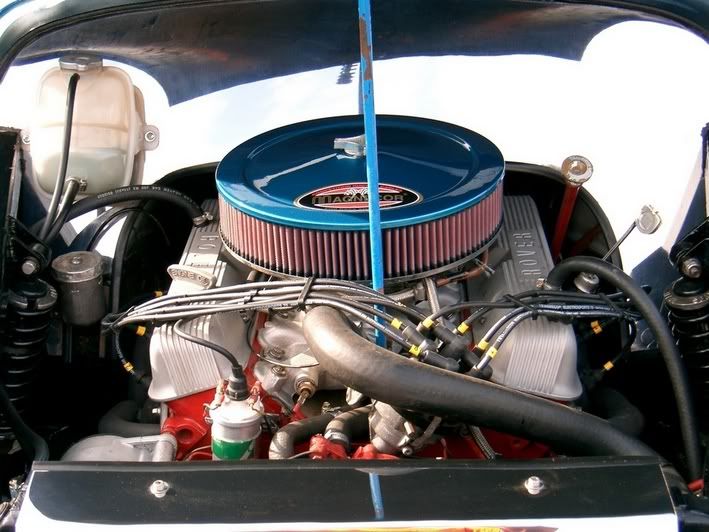 pictured after wings fitted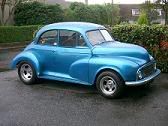 Rear View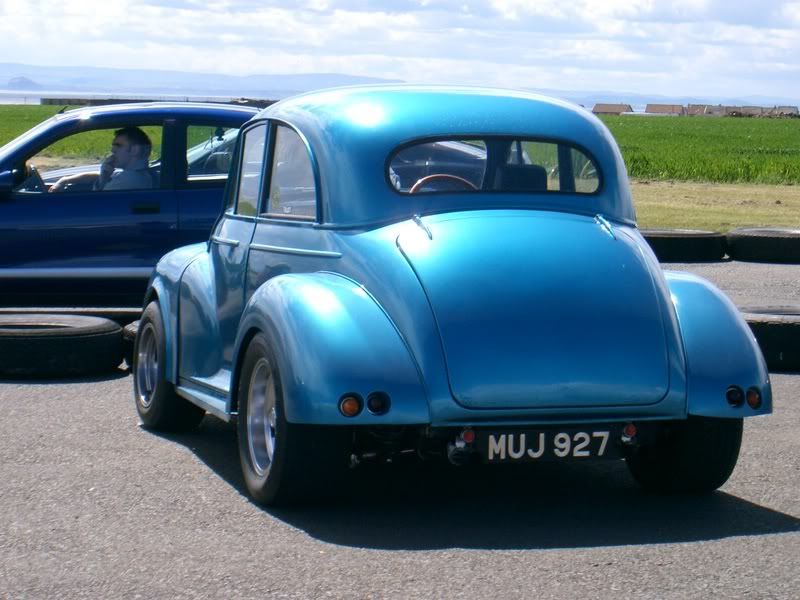 Drag racing at Edzell (win)
Drag Racing at Crail (win)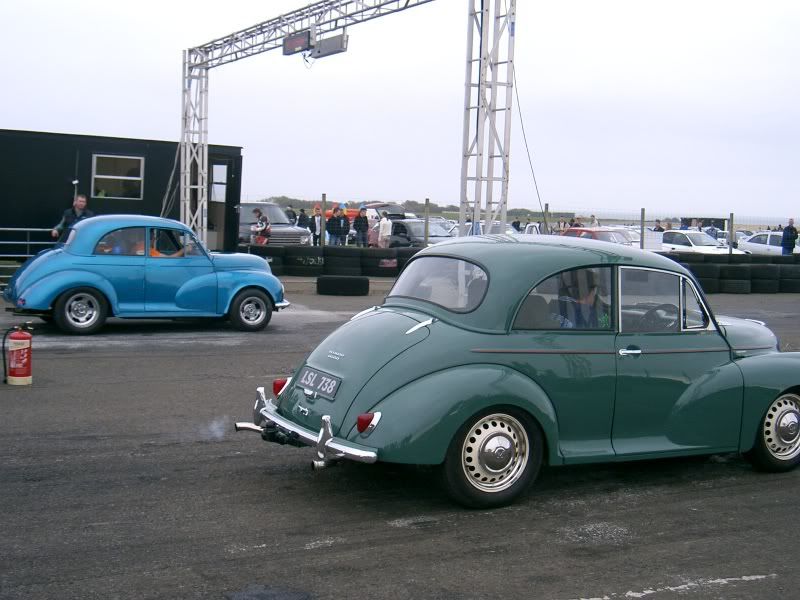 With mate's V8 Minor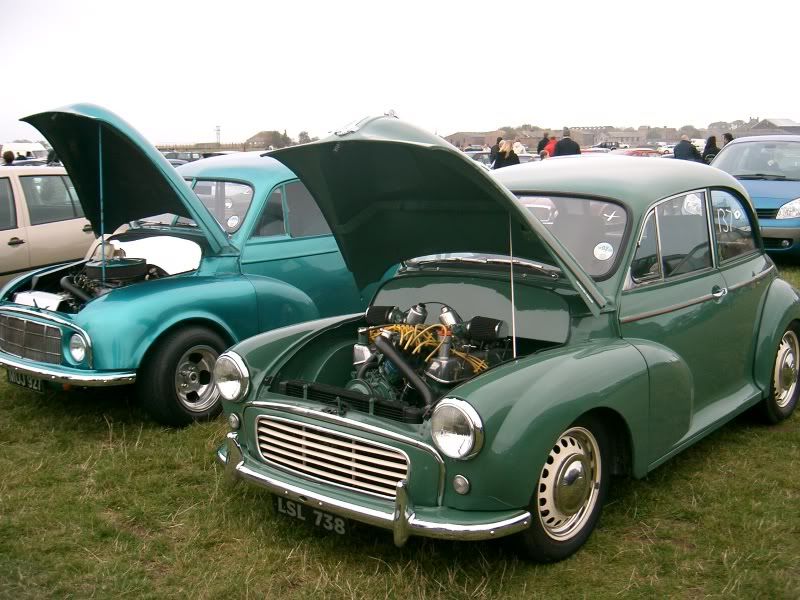 Driving Vid
Dismantling blown engine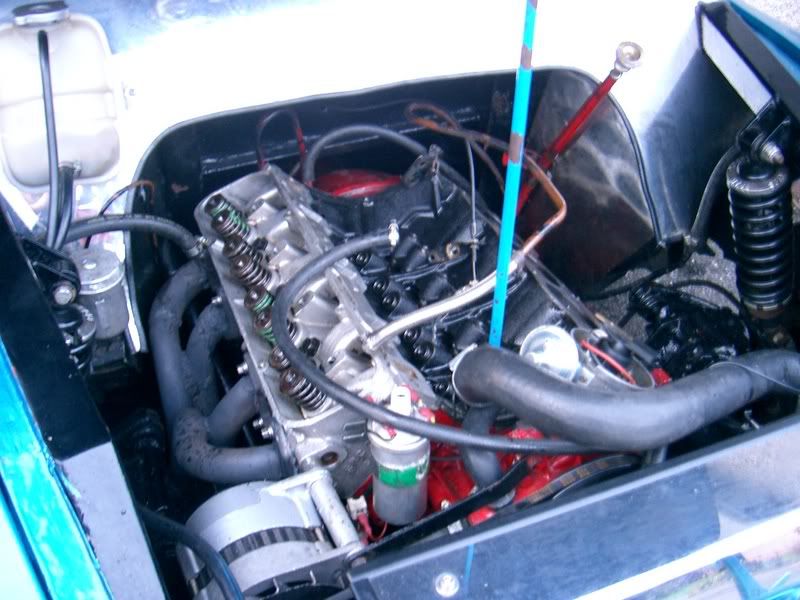 Ready for out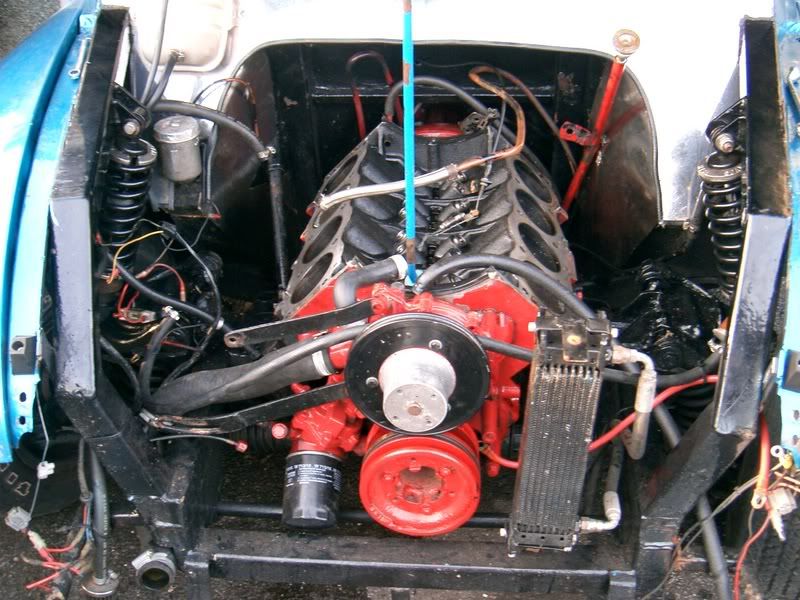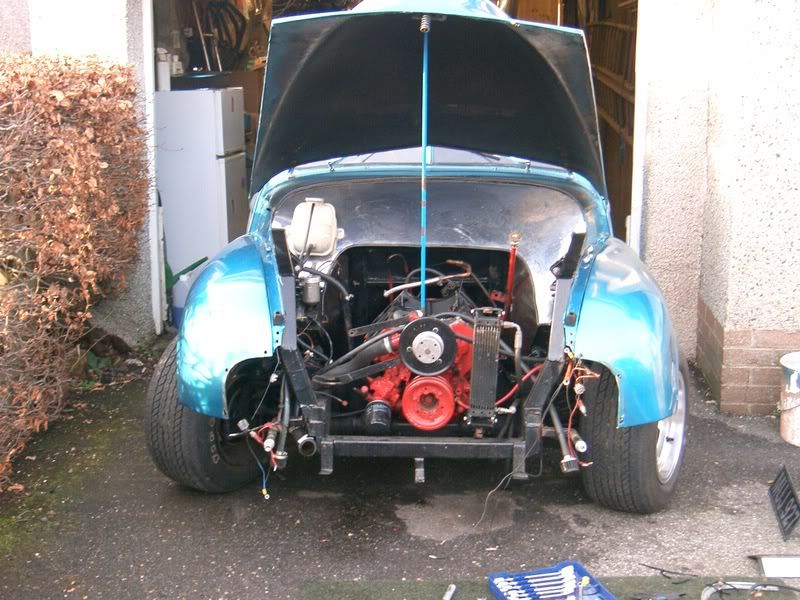 Out
Vacant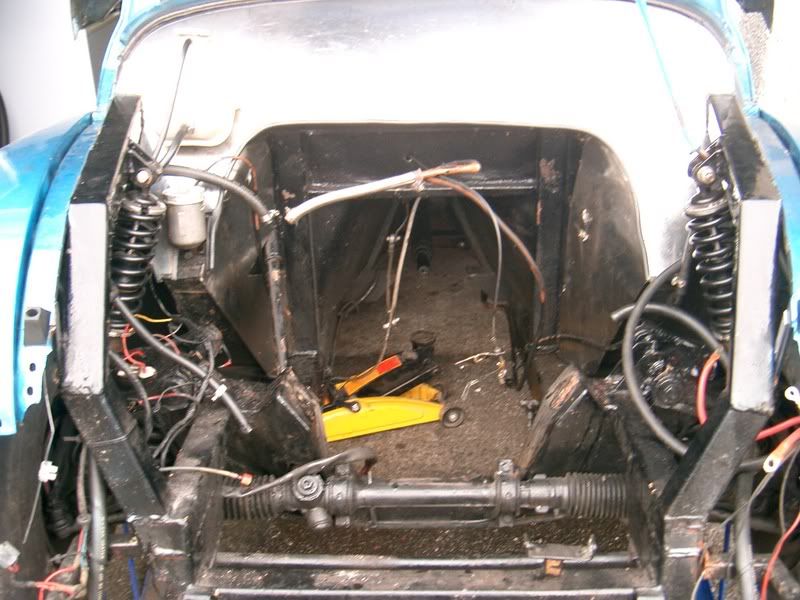 3.9 before cleaning
3.9 ready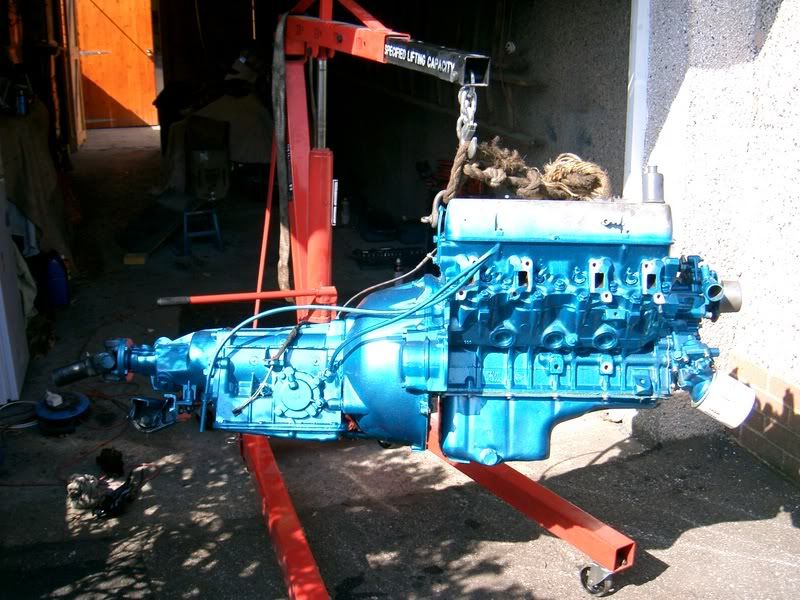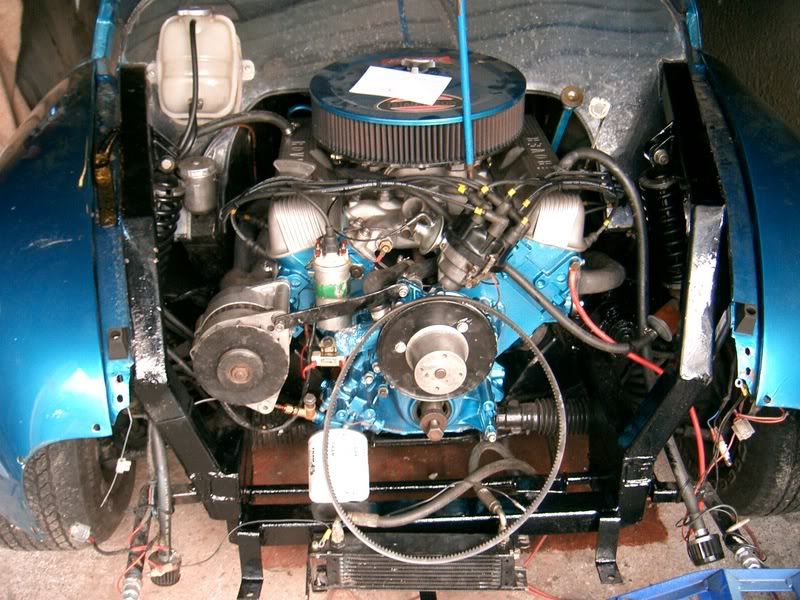 In and running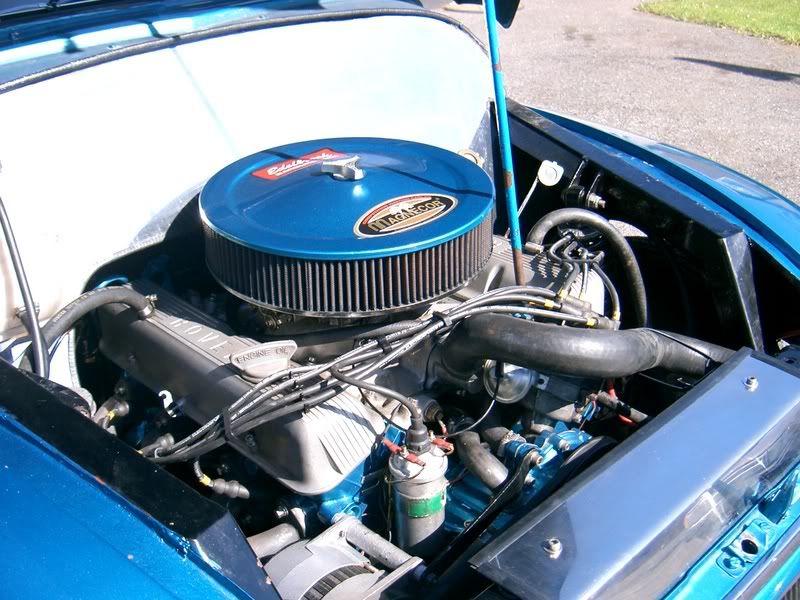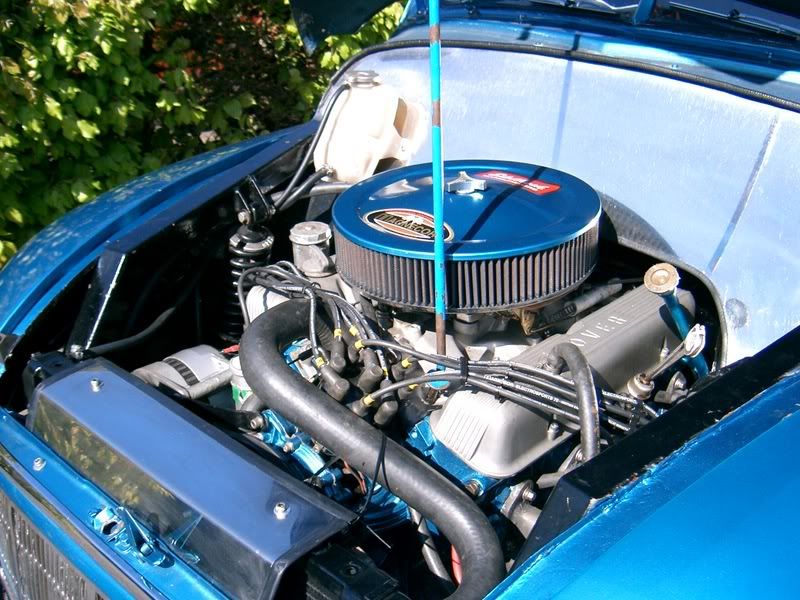 Good size boot - tank is 12gallons+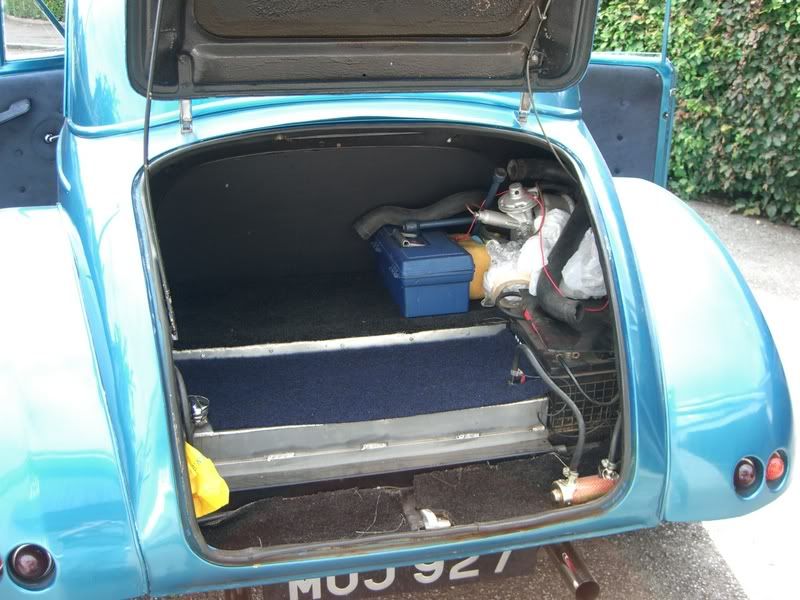 Very 70's